Understanding your loan options, their terms, and how to manage repayment is vital to future financial success. Loan counseling and repayment options are another primary focus for the GW MD Program Office of Financial Aid. Mandatory one-on-one counseling is required of all students who take out a loan to finance their medical school education in the first semester that they will obtain a loan. Class debt management presentations are mandated in the first-, second-, and fourth-years of the MD Program. Counseling is especially important for our fourth-year students. During the month of March, fourth-year students will attend a session with Jeffrey Hanson, PhD, a respected speaker on issues of importance to graduating students, including loan repayment options and debt management. All students are encouraged to contact the Office of Financial Aid whenever they have questions and also to take advantage of online resources through the AAMC's FIRST program and GW CashCourse.
Repayment Plans (AAMC 2016 EDM)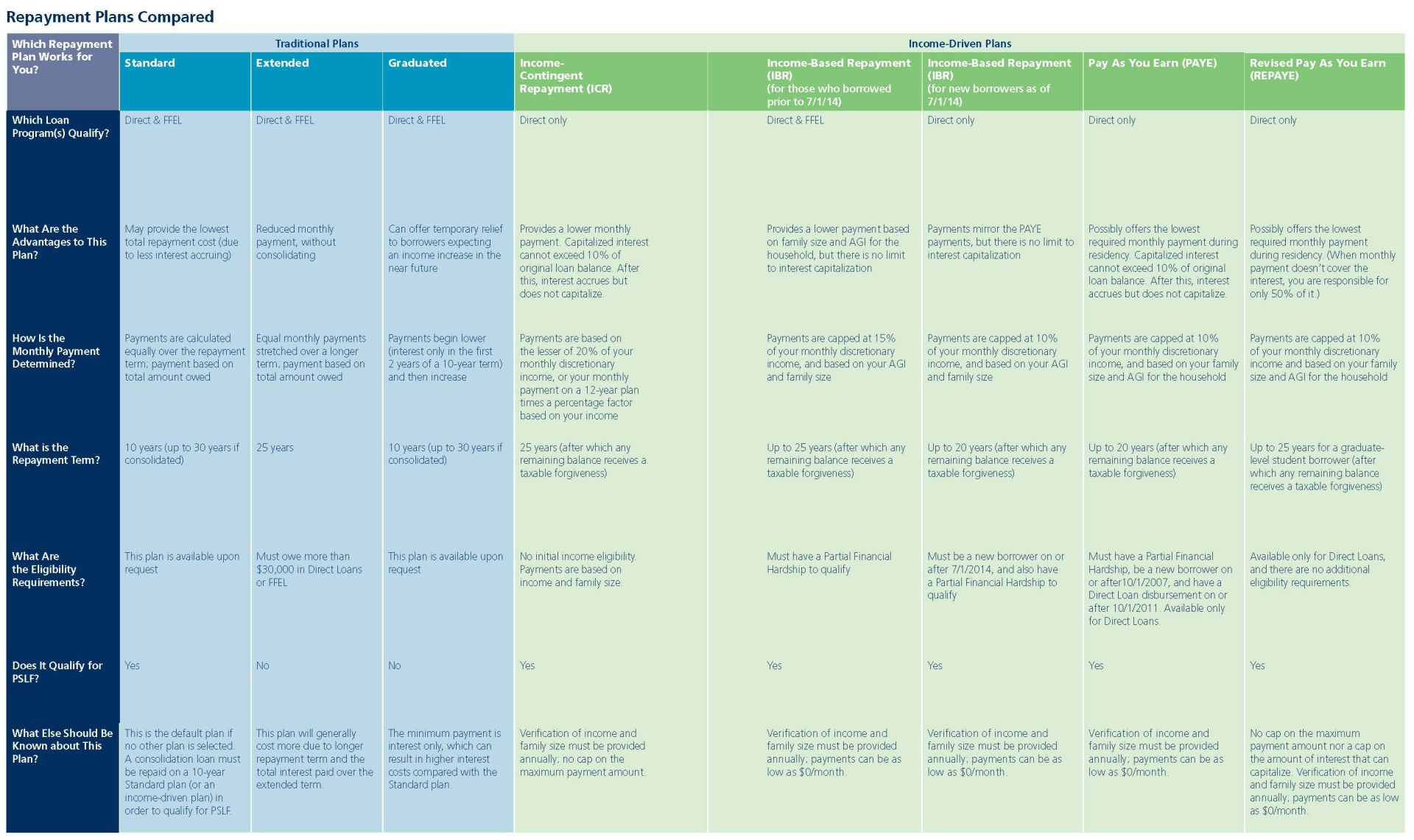 Understanding Grace, Deferment & Forbearance 
Grace 
Some loans have a "grace" period after graduation. During a grace period, no loan payments are due. Although not all loans have grace periods, two that do are Federal Direct Subsidized and Unsubsidized Loans (six months) and Perkins Loans (nine months).
Deferment 
Deferment is a temporary suspension of loan payments; during this time, interest does not accrue on subsidized loans. It is a period in which repayment of the principal and interest of your loan is temporarily delayed. During a deferment, you do not need to make any payments.
Forbearance 
If you cannot afford to make payments on your student loans and you are ineligible for a deferment (or have exhausted the deferment time limitations), a servicer may provide a forbearance in increments of up to 12 months (for a maximum of 36 months). This is a period of time in which you can either make payments lower than those previously scheduled – or delay making payments completely. During forbearance, interest accrues on both subsidized and unsubsidized loans. The accrued interest is added to the loan's principal through a process called capitalization. Capitalization results in an increase to the total cost of the loan.
Mandatory Medical Residency Forbearance 
As a medical resident, you are entitled to a mandatory residency forbearance, which is available in annual increments, and can be used to postpone payments throughout residency. It is important to clearly identify yourself as a medical resident in order to be approved for this forbearance from your servicer, and it is equally important to complete the proper forbearance paperwork in a timely manner.
To request a deferment or forbearance, contact your loan servicer(s).
Other Resources